In many homes today, the dining room is the one room that is used the least. But as Thanksgiving approaches, the dining room takes center stage. Whether formal or casual, your dining room can complement the rest of your home and create a memorable and celebratory atmosphere. The dining rooms we've highlighted, along with the products and suggestions for your table, are worthy of the most discerning guests.
($4,995,000)
With carved walnut crown moldings and an equally intricate walnut mantle above the fireplace, this North Shore dining room is fit for royalty. It is just one of the many formal rooms perfect for entertaining large groups in this 11,700-square-foot estate designed in 1916 by the famed Chicago architecture firm Perkins, Fellows and Hamilton.
In an ornate dining room like the one found in this home, chargers are a creative way to freshen up traditional place settings. Available in a variety of colors, these gold rimmed chargers from Perigold make an elegant table more eye-catching. Add an extra pop by switching out salad plates for a seasonal design that complements your dinner plates.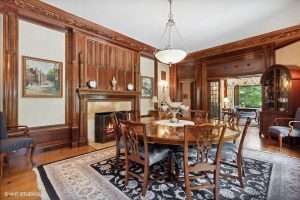 ($3,200,000)
Modern elegance is on the menu in this Elmhurst home. The contemporary residence was built in 2020 and features custom cabinetry throughout, including in the dining room. The clean lines of the built-in cabinetry and shelving contribute to the understated stylishness of the room while providing ample storage and the option for buffet-style serving.
Color and texture are great ways to add a little flair to a minimalist interior. These placemats from Missoni Home Collection effortlessly incorporate a beautiful fall color palate.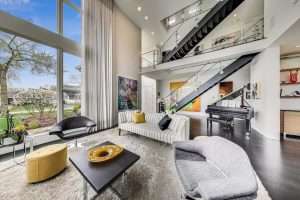 ($1,650,000)
This dining room in Kenilworth is as classic as its red brick colonial exterior. Chair rail, crown moldings, dark wood floors, and French doors create the perfect backdrop for a traditional Thanksgiving meal. Countless holiday memories will continue to be made within these four sturdy walls.
Add a touch of class to your Thanksgiving table with napkin rings. These metal napkin rings from Material Possessions in Winnetka, IL, can embellish the place settings as well as the room.
($1,995,000)
From the turquoise-beaded orb chandelier to the chic white table and chairs, this dining room in Naperville radiates fun. It's part of a custom-built home that is less than 10 years old and features a spacious, open layout that provides plenty of room for all your holiday guests.
One of the most enjoyable elements of setting a table for a special occasion is bringing out timeless pieces that aren't frequently used. The traditional beauty of heirloom silver, crystal goblets, and serving pieces can provide the finishing touches to a beautiful dining room like this one. Waterford, Christofle, and Villeroy & Boch are trusted brands for these treasured pieces.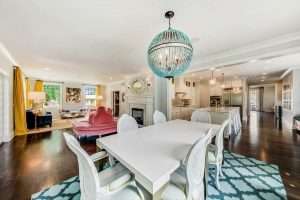 ($1,510,000)
Located in the fashionable West Loop, this luxury condominium features a huge open living/dining/kitchen space large enough for a full-size dining table that can easily seat eight. An extra-long kitchen island provides additional dining space for those holidays when friends show up with friends. Floor-to-ceiling windows and a balcony connect the living space with the vibrant Mary Bartelme Park across the street.
Candles add warmth to any holiday dining table, and these nature-inspired candle holders from Michael Aram are an exquisite finishing touch that will leave your guests impressed.