This article was written by Dennis Rodkin and published in Crain's Chicago Business on June 30, 2020.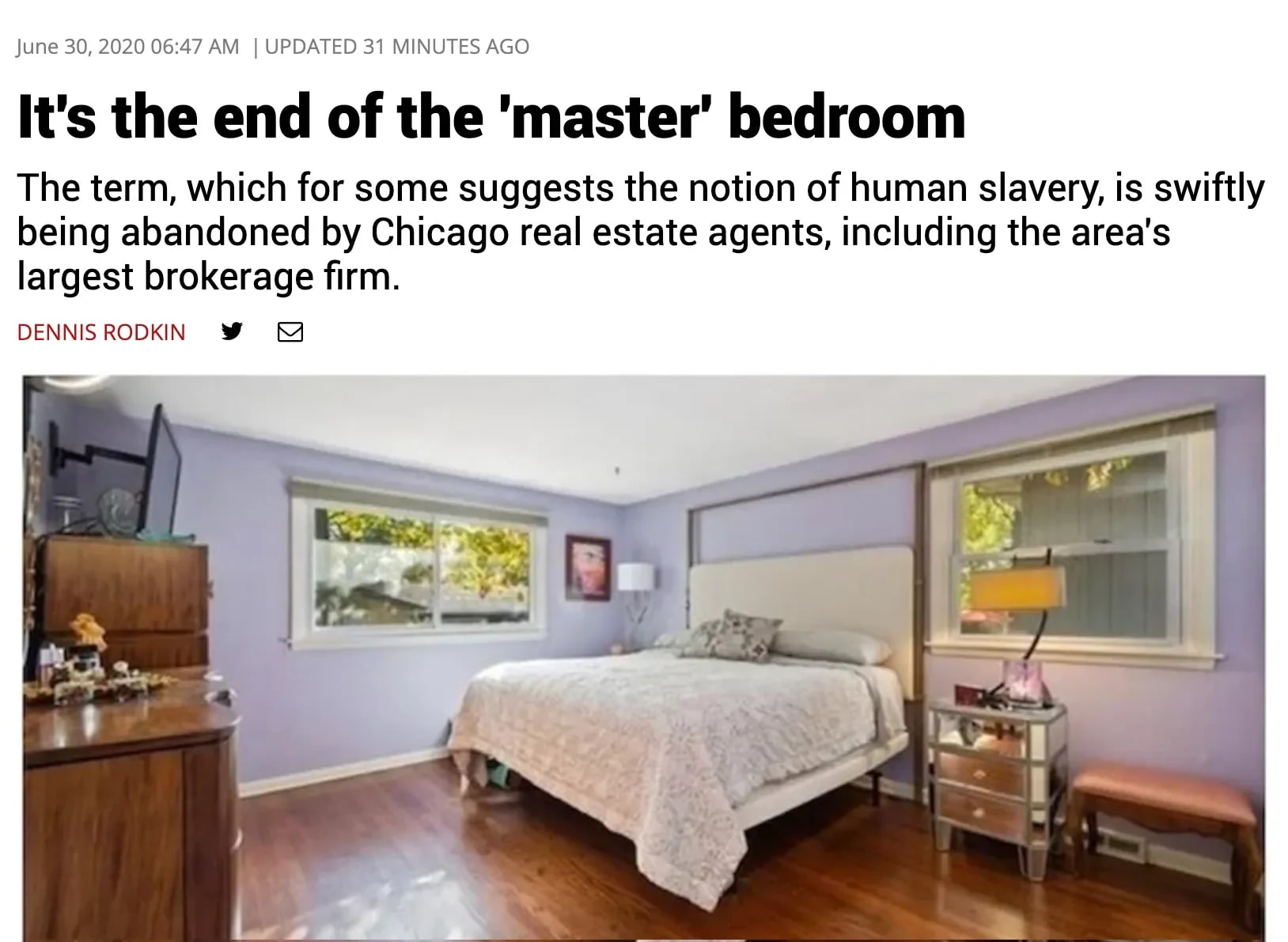 The long tradition of calling a home's largest, nicest bedroom the "master" is quickly dimming in Chicago, as more real estate people come to see it as having racist and sexist undertones that are no longer acceptable to some homebuyers.
Yesterday alone:
*The principals of the area's biggest real estate brokerage recommended their agents abandon the term.
*A veteran homebuilder said that he will find a neutral substitute to use in promotional materials for all future developments.
*The president of a historic association of black Chicago real estate professionals said his group will begin advocating for putting the term into the dust bin.
While the terms "master bedroom" and "master suite" likely did not start out as references to the brutal slave-and-master system of pre-Civil War southern states, in recent years the terms have come under fire for their suggestion of that racist system. It's also seen as sexist, because only a man can be a master, while many households are headed by women.
"People say it's just language, but this language can be hurtful," said Holly Connors, an @properties agent whose three-agent team in Arlington Heights, called GetBurbed, started changing the language in all its 50 or so property listings June 26 and publicly announced the change yesterday. GetBurbed was the first Chicago group to make the change official, as far as Crain's could determine.
"We want to use language that's inclusive," Connors said. More than a symbolic change, it's a shift that she said would signal to potential buyers of all races that their concerns can be met. "Everyone should feel welcomed," she said.
The local flurry of changes was inspired in part by the Houston Association of Realtors' June 25 announcement that it will replace the term "master" with "primary" in its listings. Agents can still describe a room as the master bedroom in their writeup of a property, but the bullet points in the database will identify a "primary" bedroom or a "primary" bathroom.
The question of whether "master" is an obsolete term has been around for several years, but in the current season of businesses and institutions coming to terms with racially exclusive overtones—such as Princeton University removing the name of President Woodrow Wilson from its school of public policy—the change in real estate terminology has taken on new urgency.
"We feel as real estate agents we have the opportunity to be leaders in a world that needs to be changed," said Connors, who has been selling real estate for 20 years.
Courtney Jones, the president of Dearborn Realtists, a Chicago association of black agents founded in 1941 to fight racially exclusionary housing policies, said he and other members are drafting a proposal for the multiple-listing service to drop the use of "master." The proposal will go before the Realtist board at its July 14 meeting.
Members are taking the term out of their listings, said Jones, who is also a partner in Chicago Homes Realty Group. "We want to get everybody on board, through changing what the listings service does."
Shortly after 5 p.m. yesterday, @properties co-principals Mike Golden and Thad Wong emailed the more than 2,500 agents in their firm to say the Houston move convinced them to phase out master bedroom terminology.
"What is important is not the origin of the term," the two wrote in their email, which Crain's obtained, "but rather the fact that it is offensive to some on the basis of race and sex. Therefore, there is no reason to continue using it in our business. We encourage all @properties agents to follow this recommendation."
Agents are independent contractors. They can choose whether to make the change, but corporate materials from @properties will not use the "master" terms.
The shift at @properties may be the one that tips the industry in Chicago toward formalizing the change in listings, because @properties is by far the biggest brokerage in the region, with $9.6 billion in home sales in 2019. The second biggest brokerage sold $7.3 billion worth of homes during the year.
Jeff Benach, principal of Lexington Homes, which has built dozens of residential units in Bridgeport, Avondale, Des Plaines and elsewhere, said the distaste for the term master bedroom "had never occurred to me, to be honest," but that when discussion of the Houston move showed up in real estate publications, "I understood. I don't want to use it anymore."
Benach said that while he doesn't plan to reprint existing sales materials, he will find a new term to use for materials, both printed and online, for all future developments.
The hurdle to get over, Benach said, is that terms like 'main bedroom' and 'primary bedroom,' the most used replacements now, "are vanilla," and marketing for new homes needs sizzle. Until it got weighed down by negative historical associations, "master bedroom" set the best bedroom apart from the others.