A record 169 @properties Christie's International Real Estate agents were honored as elite producers during the company's annual Road to Rolex awards celebration, held June 29 at the Museum of Contemporary Art in Chicago.
@properties Christie's International Real Estate agents from Chicago, southeast Wisconsin, northwest Indiana, and southwest Michigan were recognized for achieving a minimum of $10 million in annual closed sales volume for their first time with the brokerage. Each agent received a Rolex or Cartier watch to commemorate the accomplishment, joining the nearly 700 agents who have earned a place in the prestigious group since it was established in 2004 by co-CEOs Thad Wong and Mike Golden. Five current @properties staff members also were honored for outstanding contributions to the organization and will receive a watch.
"The 2021 real estate market presented incredible opportunities for agents, but also difficult challenges including anticipating and responding to rapidly changing conditions, guiding clients through multiple offers, and managing eager buyers' and sellers' expectations. Each one of this year's Road to Rolex agents more than rose to the occasion, working incredibly hard to reach this milestone," said Golden.
In addition to the 2021 class of honorees, long-time @properties Christie's International Real Estate broker Larry Giddings was recognized with a Lifetime Achievement Award. Giddings joined @properties as a founding agent in 2001 and was among the company's first 10 agents to achieve the Road to Rolex. In 2011, he was tapped to manage @properties' Lincoln Park office, which was, at the time, the top grossing office in all of Chicagoland. He resumed his sales career a few years later.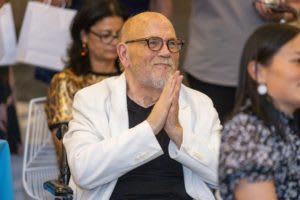 pictured: Larry Giddings
Throughout his 40-plus years in residential real estate, Giddings has influenced thousands of agents with his kindness, positivity, and knowledge. Giddings also has been a strong advocate for Chicago's LGBTQ+ community, serving as an honorary board member and former director of special events for the AIDS Foundation of Chicago.
"Larry is the embodiment of our culture and our organization. He is one of the most loving, accepting, patient, tolerant, warm, and giving people you will ever meet," said Thad Wong in announcing the honor. "If there is one person who is the epitome of the word 'love' it is Larry Giddings."
To help its high-performing agents reach the $10 million goal, @properties Christie's International Real Estate offers a year-long coaching program with monthly peer meetings, presentations from the firm's coaching and training team, and special guest speakers.
Click here for a complete list of this year's winners.